Swedish Bitter Herb Mixture
SUP-SCHW-HERB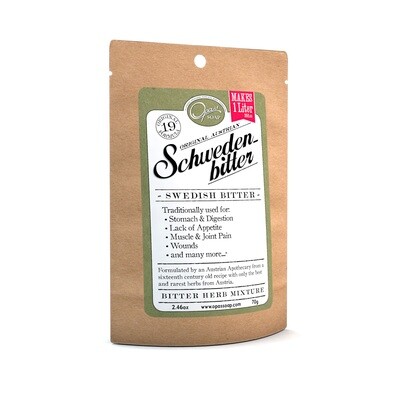 Elixirs & Tinctures
Price :
59.95
USD
In stock
Schwedenbitter is widely known to activate digestive organs, liver, as well as many other organs in the body, in a simultaneously but concordant fashion. As known, most diseases start in the digestive system. If the body cannot digest correctly it will get sick. Using bitters helps stimulate the digestive organs to detox. Swedish bitter does not stop there, it is beneficial for many other complaints.
Swedish Bitters contain mostly herbal ingredients, but also minerals such as red clay and silica. Most ingredients are traditional herbs such as angelica root, eberwurzel or zedoary. rhubarb root and senna root are traditional components of Swedish Bitters, which is, however, often because of their strong laxative effect. According to traditional use many complaints can be relieved by applying a compress of Swedish Bitters both directly on the skin and the muscle.
Compare our Bitters
In the early publishings of Maria Trebens Book "Apotheke Gottes" she mentioned two recipes of the "Schweden Bitter" den kleinen (small) and grossen (large) Swedish bitters. There are differences, not only in the quantity of the ingredients but also what ingredients that were used. For example the small Swedish bitter you generally find in stores are with 11 herbs and sometimes in other carrier solutions than alcohol.
The key to extract the correct information out of the plants is alcohol. It is a must to extract all plants using alcohol for its effectiveness of swedish bitters to work at full potential.
We purely hand manufacture the Large Swedish Bitters as by an Old Austrian Apothecary Recipe the closest documented source from Paracelsius "Il longum victum" all our herbs are sourced from a licensed Austrian Pharmaceutical Company that supplies pharmacies. All ingredients are under strict regulations and must be laboratory tested before its appearance in an apothecary or pharmacy.
Ingredients
Swedish Bitters are only as effective as the herbs used to produce the product. Our herbs are directly sourced from an Austrian Pharmaceutical Company that supplies Apothecaries and Pharmacies all over Austria. All ingredients are lab tested for potency and purity.
Grain Alcohol • Herba absinthii • Folium boldo • Lärchenschwamm • Radix gentianae • Radix carlinae • Radix dictamni • Semen myristicae • Herba allii ursini • Radix Rhei • Radix angelicae • Macis • Bolus Rubra • Radix zedoariae • Radix tormentillae • Radix calami • Myrrhae • Camphora Japonica Vera • Crocus sativus • Theriak Mixture
Vegan | Gluten Free | Caffeine Free | Cruelty Free
For more information and details on how to use our Swedish Bitters visit our dedicated Swedish Bitter Website here.